Sun Shade – Available Exclusively from Pop's Auto Electric and AC.
Reduce the Strain on your AC – call today for price on custom instillation
407-857-8579
Eclipse Sun Shade – The only sun shade in the world that has everything you could ask for.
Best protection sun shade because of a patented metalized fabric to reflect solar rays.  This sun shade is custom sized for full windshield coverage, right in our shop here at Pop's auto electric and ac.
We decided to represent this brand; The Eclipse Sun Shade, because it is quite simply, the best product we have ever seen to fend off the Florida Sun.

Even the bottom is beveled cut to fit directly along the dash and protect every inch from fading and cracking.  Mounted to the windshield for full dash coverage and it pulls from each side for perfect fit around rear view mirror.  This Sun Shade does it all, and protects all!
The Eclipse Sun shade opens and closes in seconds and it has an automatic retractor system for drawing back the sun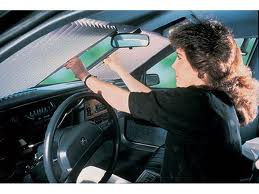 shade.  This sun shade is compact self storage right next to the windshield posts, fastened with Velcro in the closed position and removable with a twist of the wrist.
Eclipse Sun Shade was made for top of the line cars with looks that are distinctive with the feel of fine fabric, yet priced for any car buff wanting to protect their car interior, but look a cut above the next car.
The sun shade is metalized on the outside and polished silver on the inside with truly elegant styling.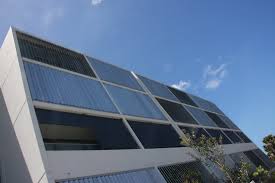 Eclipse Sun Shade is not toy, it is not something that will fade and be useless in a few weeks of summer sun, it is tested to a maximum of 12,000 cycles!  The sun shade is made of premium quality woven polyester fabric, has high strength spring steel retractors and uses a high temperature nylon retractor module.  The sun shade even has genuine lather pull tabs, this product is performance tested for many years in extreme climates all over the world before being brought to Florida by Pop's Auto Electric and AC.
For something high end looking to really protect your car's interior and look a step ahead you need Eclipse Sun Shade from Pop's Auto Electric and AC.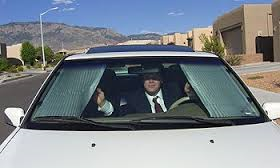 We know Florida, we know AC, we know the need for sun shades – Eclipse Sun Shade is the best and most effective protection product you can invest in, call us today!
407-857-8579